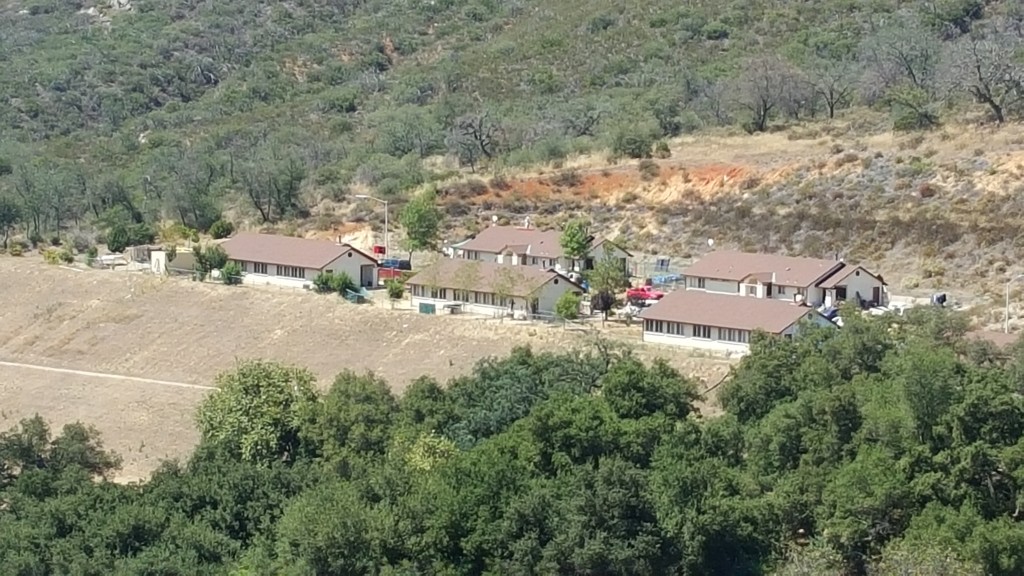 Mesa Grande Indian
Housing Authority (MGIHA)
About Housing Authority
The Mesa Grande Indian Housing Authority was established in 1994 to administer and manage the affairs of the two tribal housing developments located in Black Canyon: Phase I, built in 1994; and Phase II, built in 1999, utilizing federal Housing and Urban Development (HUD) grants. The Housing Authority consists of a five-member Board of Commissioners and operates under tribal ordinance.

The tribe's housing assets and infrastructure include 22 homes with 3, 4 and 5 bedrooms, an independent water system with multiple hydrant access, bridge, baseball field, and basketball court, are also located at the facilities.
The offices are located in the fire station at 27000 Black Canyon Road. The offices can be reached at 760-782-0720 or FAX 760-782-9029.
Mesa Grande Housing Board of Commissioners
Diane LaChusa, Chairperson
Louie Guassac, Vice Chairperson
Patricia Martinez, Secretary
Juanita Feldman, Treasurer
Marion Romero, Commissioner
Tony Gumataotao, Housing Committee Liaison
Housing Authority Staff
Danielle LaChusa, Housing Director
Robert Dominguez, Maintenance
Mesa Grande Indian Housing Rental Application
The Mesa Grande Indian Housing Authority has low-rental units. Rent is based on annual adjusted income. There is a waiting list for all of our housing sites. Timeliness of selection depends on the availability of housing. Unfortunately, we are unable to offer emergency housing.

We require that you update your application every (12) months. If there are changes in address, income or family composition it must be reported immediately. The application will be filed inactive and removed from the waiting list if it is not updated. The application must be completed before it will be considered for selection. All questions must be answered. The application must be turned into the Housing Office seven (7) days prior to Selection Meeting in order for it to be considered.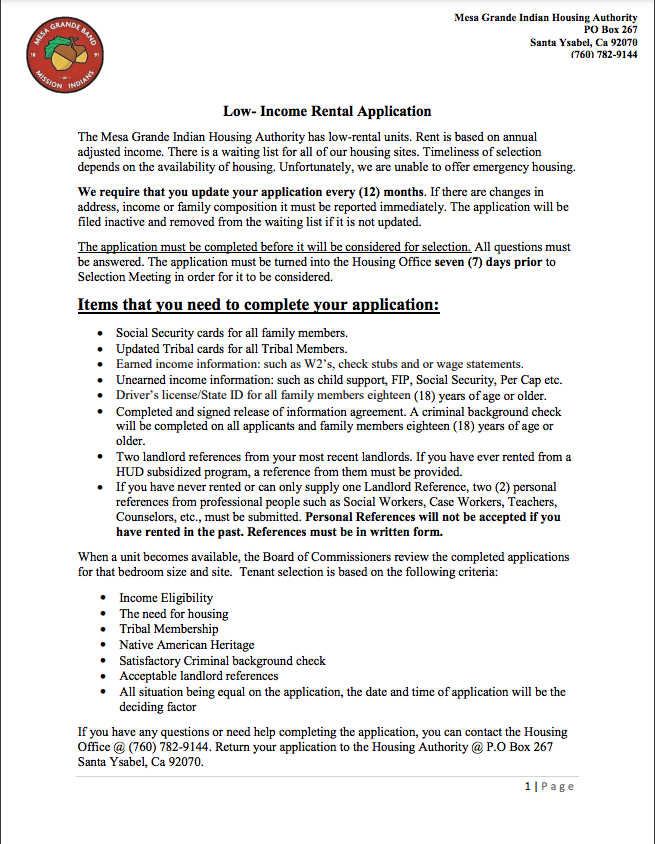 For additional information about rental unit availability, please contact the Mesa Grande Tribal Offices directly at 760-782-0720.