2016 Summer Food Service Program
Sponsored by the USDA and Feeding America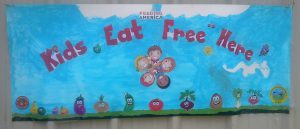 Please Join us at the Housing Office for a FREE lunch everyday of the week during summer!
STARTS June 20th 2016 through August 9th 2016 from 12 noon to 1pm Monday through Friday!
Housing Office located at 27000 Black Canyon Road
Meals MUST be eaten at the Mesa Grande Housing Office
Food CANNOT be taken from the site. If you must leave the site before finishing your meal, ask the staff what food items (If any) you may take with you.
Second meals may be served only after ALL children have received a first meal.